Why have your uniform embroidery ?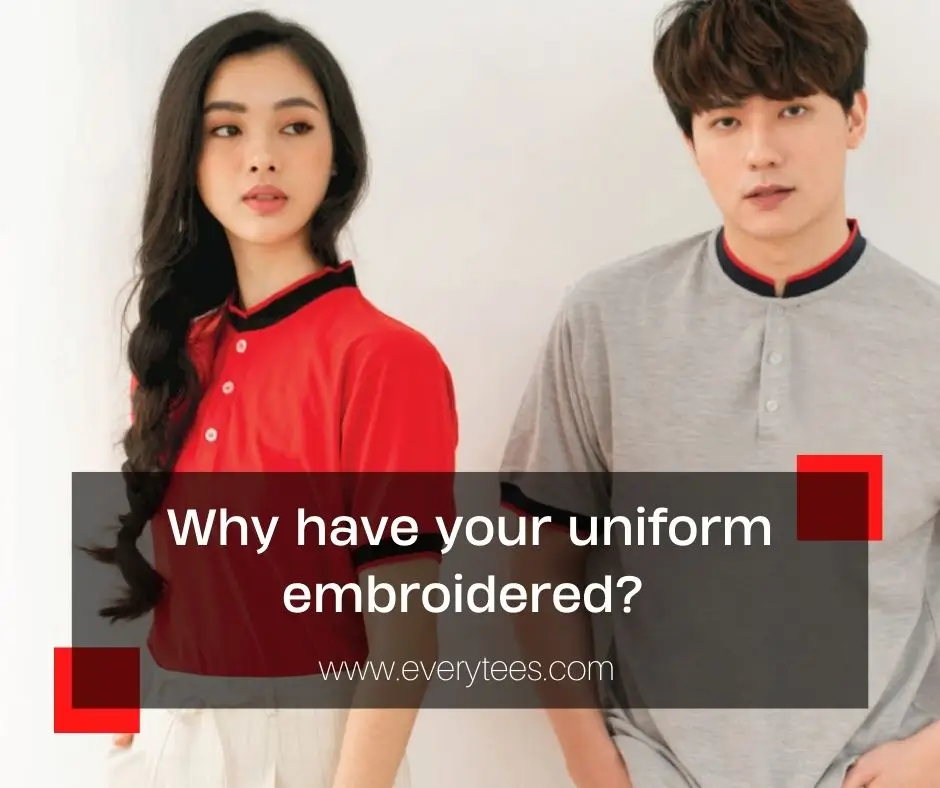 Table Of Content
Custom embroidery can add a touch of sophistication and class to your organization's uniforms, making your company appear more established and trustworthy.
This extra level of detail can help you stand out from your competitors and make a strong impression on potential customers or clients.
Presenting yourselves as "one team" through matching uniforms can also instantly increase recognition of your brand from those whose attention you are trying to seek.
Everytees offers professional embroidery services for your company uniform.
Why have your uniform embroidered?
If you're looking for a reason to have your work uniforms embroidered, we've got four good ones for you. Not only does embroidery make your uniforms look more professional, but it also makes them more comfortable and can even improve safety.
Here are four reasons to have your uniforms embroidered today:
It looks professional.
You don't have to worry about it fading or shrinking.
It's easy to care for.
You can personalize it
The benefits of having an embroidery uniform
Embroidery uniforms are often a very important part of a company's branding. They can help to create a strong visual identity for the company and can make employees feel prouder to be representing the brand.
Additionally, embroidered uniforms can also be very practical as they tend to last longer than printed uniforms.
Steps for creating an embroidered uniform
The process of creating an embroidered uniform requires a few simple steps that need to be followed in order to ensure a high-quality product.
When starting, it is important to first select the correct fabric for the job.  Everytees suggests using our polos, F1 Uniforms, or corporate shirts, for your company embroidered uniforms.
After that, a sketch or mock-up should be created in order to plan out the design. Next, the fabric should be cut and sewn together according to the plan. Finally, the design should be embroidered onto the fabric.
How to choose the right embroidery uniform for your business
When it comes to choosing the right embroidery uniform for your business, there are a few factors you'll want to consider. The most important of these factors is the type of work that your employees do.
If they're constantly working with their hands, you'll want to choose a fabric that's durable and can withstand frequent laundering.
You'll also need to consider your company's image and branding. If you want your employees to look professional, it's important to choose a style that reflects your company's values.
Everytees has been working with Malaysian companies for over 10 years and can help you select the perfect material and style for your company embroidered uniform.
How to take care of your embroidery uniforms
Some Dos and Don'ts for wearing embroidery uniforms
There are many different types and applications for creating an embroidered uniform.  We would like to highlight a few of the more common methods for keeping your uniforms looking new.
Home Laundry
Wash your embroidered garments with a mild detergent, using the delicate cycle. If bleach is required, use non-chlorine bleach in accordance with product instructions.
Machine wash in cold water and remove promptly after the cycle is complete. Never leave any piece of embroidered clothing soaking or in water, and don't wring it out.
Instead, immediately place it in the dryer on a normal setting. If any stained embroidery remains, don't rub it as you will loosen the stitching, especially when the embroidery is wet and slippery.
Dry Cleaning
Embroidery can be dry cleaned, but you should be careful. You should be especially careful when dry cleaning dark colors. Avoid using pre-spotting agents.
Ironing
To ensure your embroidered fabrics maintain their quality, always iron them on the reverse side. It's best to iron your embroidery between two pieces of fabric, using neither water nor steam. By taking these precautions, you can keep your embroidery looking its best.
Important Note:
You should always follow the care instructions on the garment label, taking special care with embroidered items.
Different yarns and threads can have different colorfastness, so it's important to do a test beforehand to make sure the colors won't bleed or fade during washing or cleaning.
When in doubt please contact Everytees to discuss what is the best way to maintain your embroidered uniform.
Conclusion
An embroidered uniform will make your company's uniforms stand out from the crowd by adding a little extra touch of class and prestige.
We belive that for many Malaysian companies, embroidery would be the best method for creating company uniforms.
Of course, every company is different, and we all have different expectations and budgets.
So please feel free to contact us for a free professional discussion about your unique needs.